Maria Shanina is a designer and artist, creating out of her studio in Ottawa, Ontario, where she primarily works with textiles and mixed media. Awarded with a Diploma in Silk Painting and Decorative Art, Maria creates delicate contemporary textile compositions. Captivated by the ancient oriental art of silk painting, she explores ways of balancing the expressiveness of flowing paint and minimalist design.
An influential mentor and contributor to a creative community, Maria has a Certificate in Pedagogy and the Arts: Tools for Community Development Pedagogy from Canada Council for the Arts. Valuing education and learning, she continues her professional art education with Toronto School of Art, empowered by mentorship of the school tutors.
Maria's work was featured in Ottawa Design Club's Zine Magazine, Best of Abstract Art collection on Gallea, Art Connect's Artist to watch '22. Currently Maria's textile works are presented at the Legislative Building in Toronto, Ontario, Ephemeral/Eternal visual exhibition curated by Visionary Art Collective. In 2022 Maria participated in a number of group art exhibitions among which an exhibit at ARTWRK Canada and fundraising for the humanitarian organization World Vision with SquareFootShow.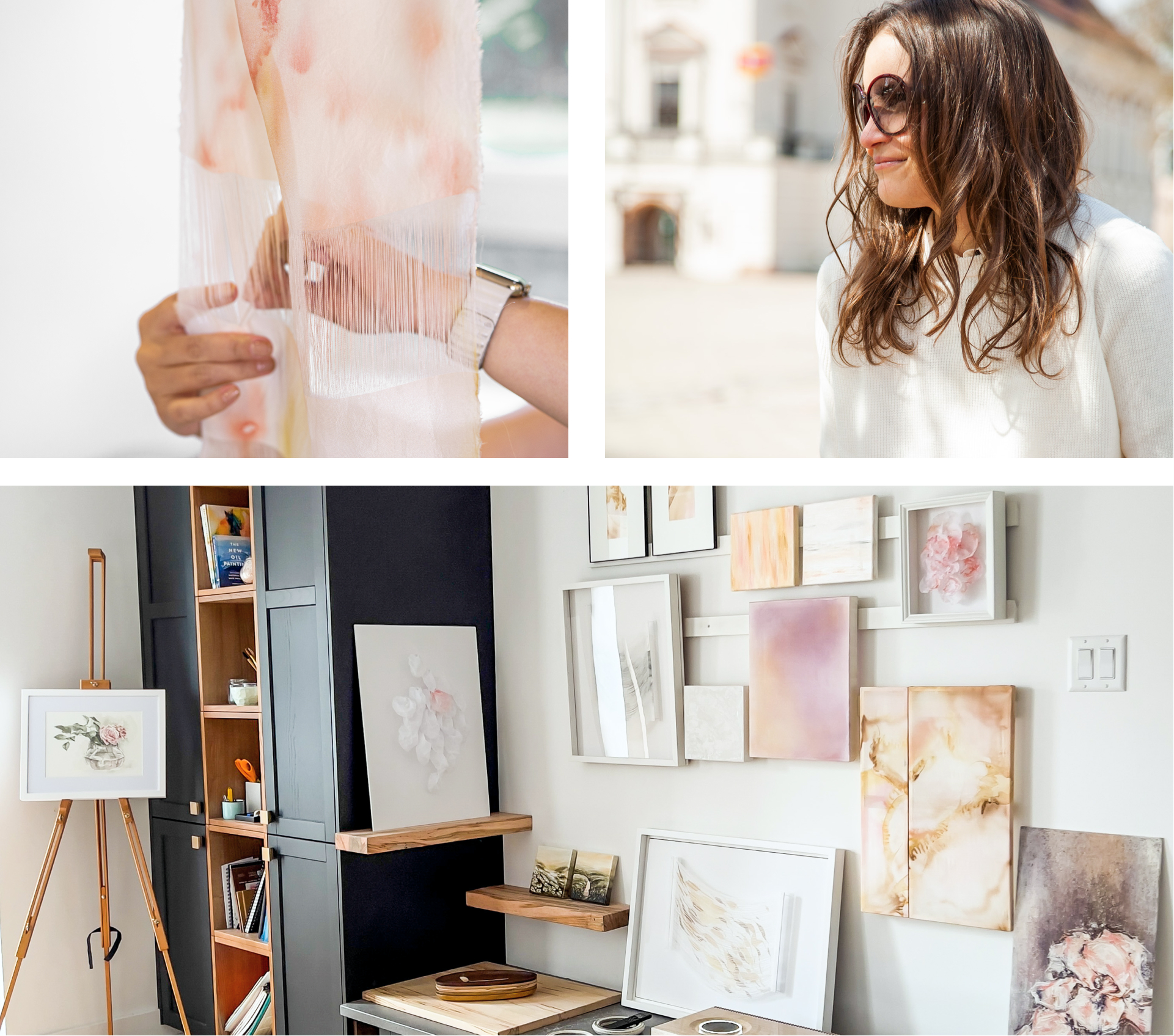 The Artist's current body of work reflects her study of the positive effect of art and aesthetics on mental health and well-being that's called neuroaesthetics. Maria sees neuroaesthetics as a powerful force that can positively impact communities by affecting people's behavior and feelings, decreasing levels of stress and anxiety, improving focus and bringing calmness and joy. In her work, Maria experiments with various media and techniques and creates dynamic compositions that evoke that said positive emotional response. Contributor to Brain Tumour Foundation of Canada and Pancreatic Cancer Canada, Maria's goal is to spread awareness of the importance of art and aesthetics in our society and its healing nature.
Maria's expertise in product design has taught her how to embrace experimentation and learn from failure. This growth mindset encourages her to stop worrying about the outcome and immerse herself in the process of creation. Dynamism in her work is about embracing and accepting that the state of things is forever changing. It's about respecting the natural lifecycle and the idea of constant movement.
To Maria, leaving room for imagination is essential. She often relies on viewers' responses to what they see in her work and how they feel about it. The artist is frequently fascinated by the diversity of views and differences in perceptions. Maria believes that there's no right or wrong answer, no bad or good. Rather, there's learning from each others' authentic viewpoints and experiences, there's a purpose for each and every one's views and feelings, even if it isn't obvious yet. She shares her beliefs through her work.